As of this morning, every single person on the Skittish waitlist has a Skittish invite and thousands of you are now spinning up new events, playing with our all-new interface and new features for the first time. 😱
We're doing a final round of bug fixes and test events before throwing open the doors to everyone, but thought this would be a good time to look at what's new since our last big update.
New Interface
When we built the initial Skittish prototype, we weren't sure where things were going as we were building it, so it accumulated messy code and an inconsistent UI as it grew. Buttons piled on buttons as we kept adding features, and it was tricky to navigate everything Skittish could do, especially for your first time.
Splitting off from the original prototype, Simon took on the immense task of starting fresh, refactoring everything into a much more consistent and scalable frontend.
Virtually every bit of Skittish was touched by this upgrade, based on the generous feedback of our beta testers. In the process, it's all shinier and simpler to use, from the camera and editor to the icons and menus for customizing and navigating events, and we hope a much better experience than before.
Minimap
We added a minimap showing your current location relative to other players, as well as special objects like doors, stages, video screens, and channel zones.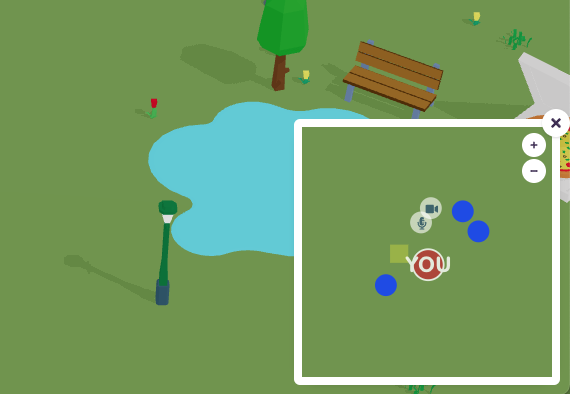 Zoom and pan around to explore the whole space, and you can click anywhere on the map to move there. Never get lost again!
Improved Editor
Our redesigned editor shows thumbnails for all objects, and groups together special interactive objects like room portals, video embeds, and stages.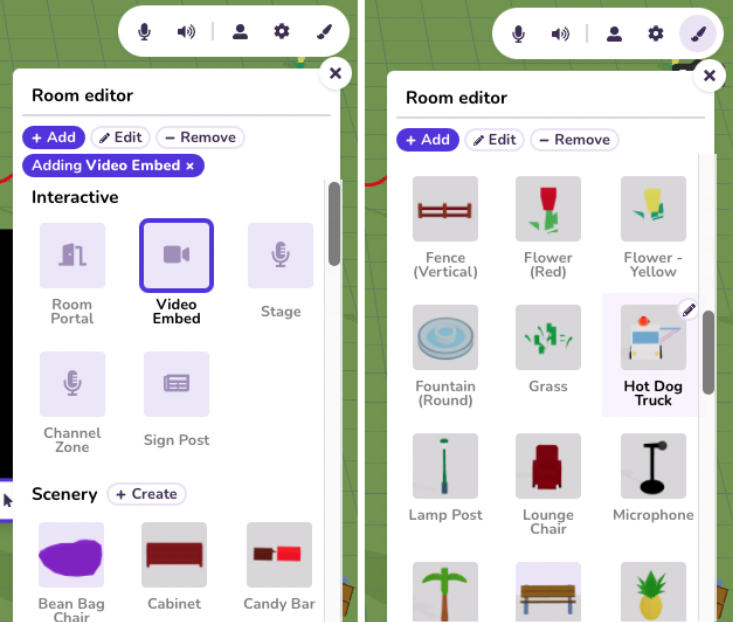 Signs
A frequent request was customizable signs, which could be used for navigation and wayfinding, providing schedule information, or just more detailed information about the event.
We added a new Sign object, which can be customized with a title and clicked on for more information, with support for clickable URLs.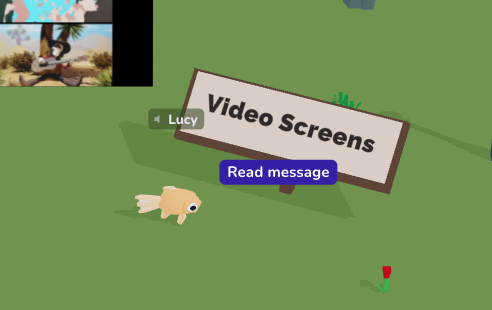 Attendees Menu
The new Attendees menu shows everyone currently online and in the space and which room they're in, as well as offline registered people. Clicking any attendee will show you their photo and profile information, if available.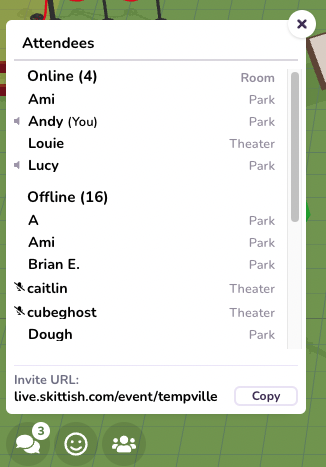 For event organizers, they can quickly take admin or moderator actions from this menu: banning users, muting them, or assigning them special roles.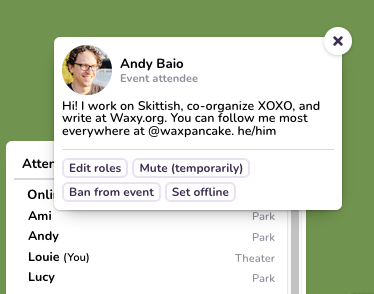 More User Roles
Speaking of roles, we now have more granular permissions. In addition to the existing Speaker and Admin roles, there are new roles for Event Organizer (access to moderator tools), Editor (customizing room layouts), and Video Controller (control embedded video screens).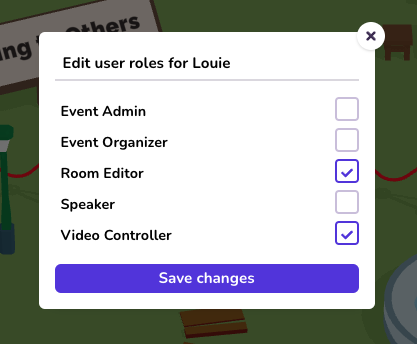 Animal Avatar Picker
Our improved avatar picker lets you see all the options at once with thumbnails of each, and you can change your avatar at any time in the preferences menu.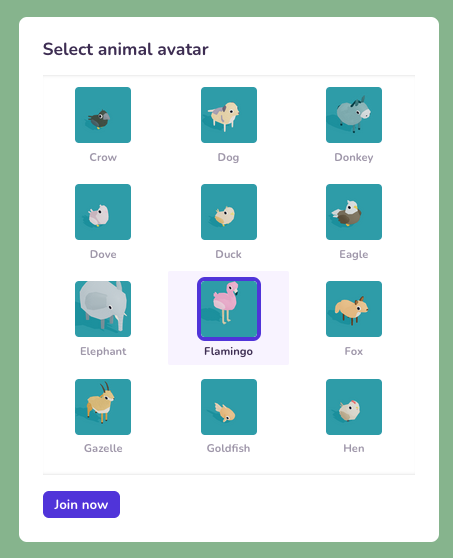 Better Mobile Support
Skittish is best experienced on desktop, but it now works pretty great on mobile too. You can tap around, talk to others, chat, and do almost everything that you can do on desktop. Try it out!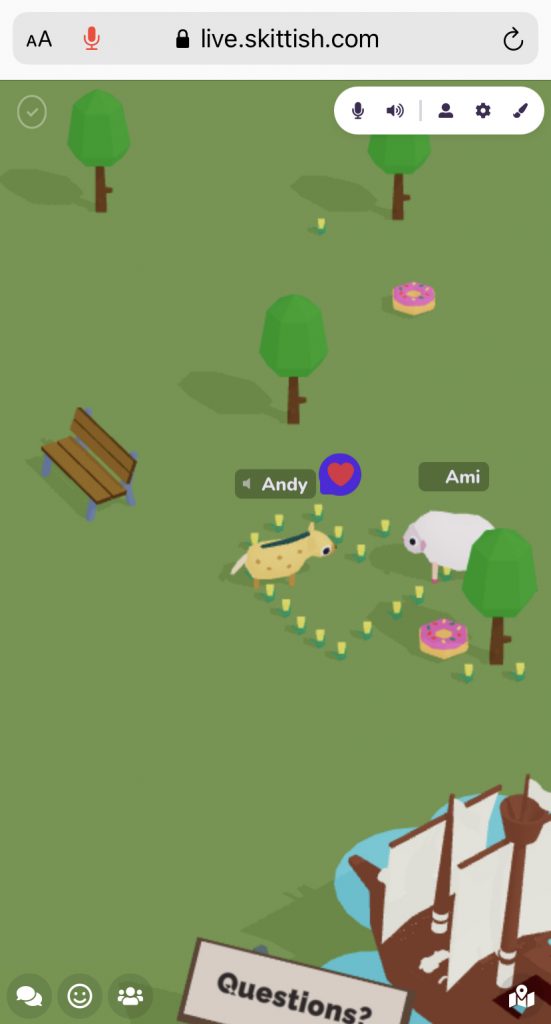 Stripe Billing
Maybe less exciting to some people, but pretty thrilling for us, there's now self-service billing for our basic Creator/Community tier with Stripe. When you run out of audio minutes in the free tier, you'll see an alert and can upgrade yourself immediately.
Help & Tooltips
We've been adding tooltips for inline help for any of the less obvious features in Skittish, and added a help site, a growing searchable resource of FAQs and documentation with links to contact us.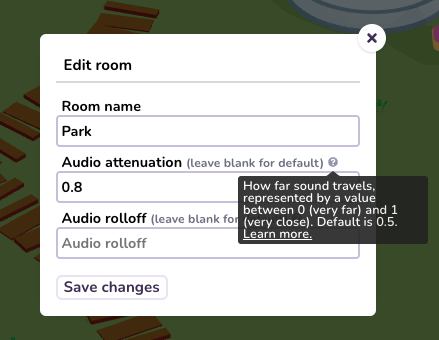 New Objects
We've added a bunch of new objects, courtesy of the brilliant Joi Fulton, who made our delightful hot dog truck, velvet rope, microphones, bean bags, and other custom objects.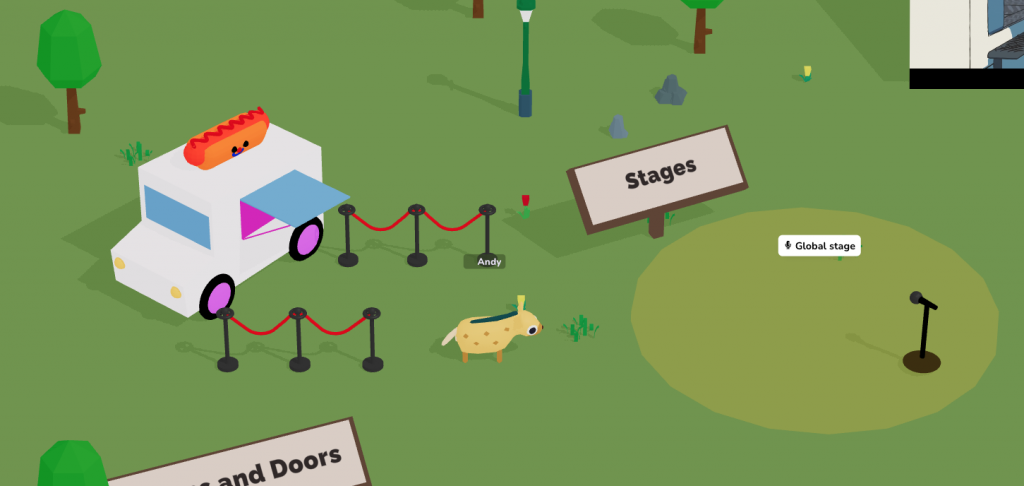 Opening Soon
If you're not on the mailing list and didn't get an invite, don't worry — we're opening to everyone ANY DAY NOW. It's not too late to sign up to get notified when we throw the doors open. See you soon.