How is it April already?! Since our public launch, we've been very busy with tons of new features and updates, including one critical behind-the-scenes change that affects how Skittish works. Let's get into it.
New Audio Provider
The biggest news is that Skittish has a new audio provider, a huge but necessary infrastructure change for us. At the end of last year, High Fidelity quietly shuttered their spatial audio service, and with a lot of effort, we successfully migrated over to Dolby.io, which launched their excellent spatial audio service last November.
This change should be seamless and largely unnoticeable to you, though you may have noticed an increase in audio performance: switching between channel zones is now nearly instantaneous, for instance, instead of taking a couple seconds to connect.
Unfortunately, this comes with one trade-off: the maximum Skittish users in a single audio channel is now capped to 50 people, down from the previous 150-person limit. Each room and channel zone in a Skittish event uses its own audio channel, so you can still have many more than 50 people in your Skittish event by adding rooms and channel zones, but only a maximum of 50 people can speak or listen in each audio channel.
The Dolby team has assured us this is a temporary change while their spatial audio service is in beta, and they're actively working to increase that up to 300 users per audio channel, double our capacity with our previous provider. We'll post an update when that change is made.
We know this may be a huge inconvenience for some of you planning larger events, and we're so sorry. This limitation can be worked around with creative room design, primarily by adding multiple channel zones and rooms to split up your event, and we're happy to help with that. If any of you want a refund on your monthly subscription, let us know and we'll take care of it right away.
Image Billboards
You can now use the editor to upload an image, which displays as a resizable and rotatable billboard. Use it for branding, wayfinding signage, or just decorating the world.
Camera Views
Want a better view of the action? You can now change your camera angle using the camera icon next to the minimap in the bottom-right of the screen, or use the scroll gesture on your mouse/trackpad, to choose from three alternate views of the world.
Better Badges
Clicking on any person's nickname will now show you their profile information, including full name, avatar, bio, and pronouns.
Pronouns
By popular request, you can now add pronouns to your profile and they'll display next to your name in your badge.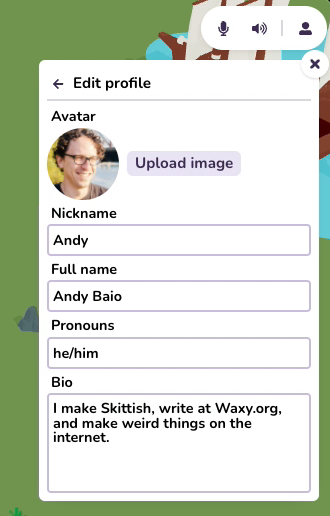 Room Entrance
Want players to start somewhere besides the default middle of the room? You can now drop a Room Entrance using the editor, and players will appear there when entering a room or joining the event for the first time.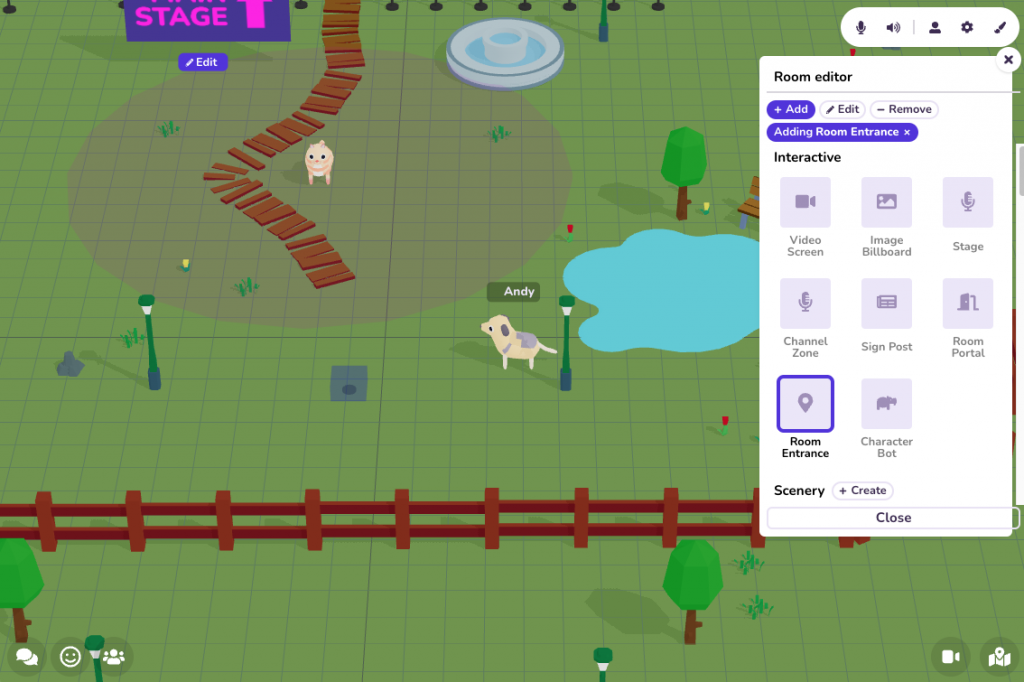 Looping Videos
You can now set your video screens to perpetually loop using the editor.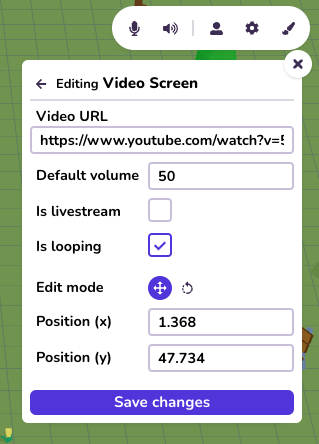 Better Mobile Support
We've improved mobile support so much, we removed the popup warning! You could already move and talk to others in Skittish from your mobile device, but we fixed a bunch of issues with signs, doors, videos, and the editor. Give it a try!
Character Bots
We launched this late last year, but neglected to mention it here: you can now use the Skittish editor to place little animal NPC characters in your world, which you can supply with multiple lines of dialogue that appear automatically or when other players come into range. These are a great alternative to signage for welcoming people into the space, explaining what's going on, or just giving the space some color.
Deleting Accounts
You can now delete your account from the dashboard. (If you're currently a paying subscriber, you'll be prompted to cancel any active subscriptions first.)
Thoughts?
We'd love to hear how you're using (or planning to use) Skittish and what you think of it. We plan to start writing about some of the creative uses of Skittish we've seen here, and we'd love to feature you. Drop us a line!